CNC Spindle Repair Service
Providing Unmatched Expertise for Over 65 Years
In addition to rebuilding your spindle to OEM standards, our capable in-house engineering team can re-engineer new parts and retrofit newer technologies into older designs for improved machining performance.
Unparalleled Spindle Service and Repairs
At Gilman Precision we repair all makes and types of spindles, with our specialization in precision machining, it's only fitting that Gilman's CNC spindle repair service and machine tool service are among the best as well. In fact, our repair processes are so exacting, we can repair spindles to better-than-new condition on some brands which essentially equates to a CNC spindle rebuild.
Gilman's Machine Tool Spindle Repair
All repair services take place in Gilman's Class 10,000-level cleanroom, followed by QA testing to ensure that customers' exact expectations have been met or exceeded. Our equipment, processes, and over 65 years of repair experience produce unbeatable results that leave the restored spindle or slide better than new. Our process is as follows:
Machine Spindle Failure Analysis
Spindle Component Inspection
Price Quote
Spindle Part Replacement & Reconditioning
Spindle Reassembly
Spindle Return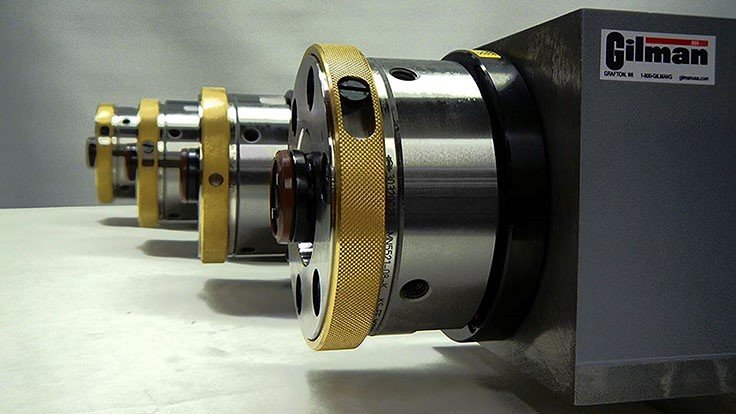 Types Of Spindles We Repair
Our capable in-house engineering team can even re-engineer new parts and retrofit newer technologies into older spindle designs for improved machining performance. The types of spindles our team repairs are:
Milling Spindles
Grinding Spindles
Drilling Spindles
Boring Spindles
Turning Spindles
Along with getting production up-and-running again, our spindle repair service offers the following benefits:


Spindles Repair Across Wide Rpm Range, Including 260,000-RPM

Maximize Spindle Performance To Improve Productivity

Decrease Downtime

Reduce Maintenance Costs

Improve Spindle Reliability

Best Warranty In The Industry

Emergency Services Available
Our Process is as follows
Machine Spindle Failure Analysis
Spindle Component Inspection
No cost evaluation report and repair Price Quote
Spindle Part Replacement and Reconditioning
Spindle Reassembly and Testing
Spindle Return