Customized Linear & Rotary Motion Systems
We create high precision solutions that improve efficiency and achieve longevity.
Precision Linear Stages
Meticulously-engineered pneumatic, hydraulic, manual and motorized linear stages for ultra-smooth movement and hyper-accurate positioning.
Repair, Rebuild, or Refurbish
Our highly trained technicians utilize state-of-the-art production equipment to assess and refurbish damaged & aging spindles, slides, & customized machines.
Increasing machine productivity and efficient manufacturing, Gilman spindles provide a complete systems approach for rotary motion. Spindles can be uniquely designed to perform machining functions.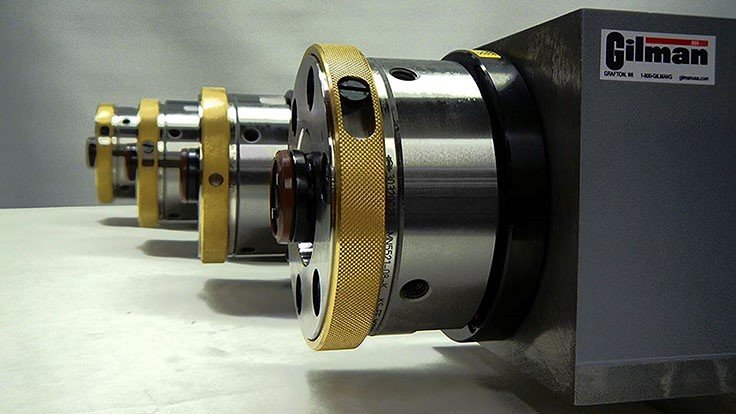 Durable and dependable, Gilman slide stages provide smooth, accurate linear motion for many applications across a variety of industries. Gilman manufactures three different slide styles: dovetail, hardened box way, and near zero friction linear type.
Gilman USA provides service on most brands, models and types of spindles and slides. Whether its reconditioning, upgrading or testing performance and accuracy, Gilman's in-house staff can ensure that your products meet or exceed your expectations.
Testimonial
"Our problem was excessive vibration and noise from the spindle. Gilman correctly diagnosed it and gave us a quote. We offered them the opportunity to repair it, which they did in a timely manner and returned it to us promptly. We were very happy with the service."
Andy Pattison, Binsfeld Engineering
Receive The Latest Gilman Precision News
To request a quote, please contact us using the contact form.
If you have an item that we can repair for you, click the repair request forms below.
Use our product configurator to download a drawing to use in your design.
If you you would like to reach us directly, give us a call at 262-377-2434, or email us at sales@gilmanprecision.com.